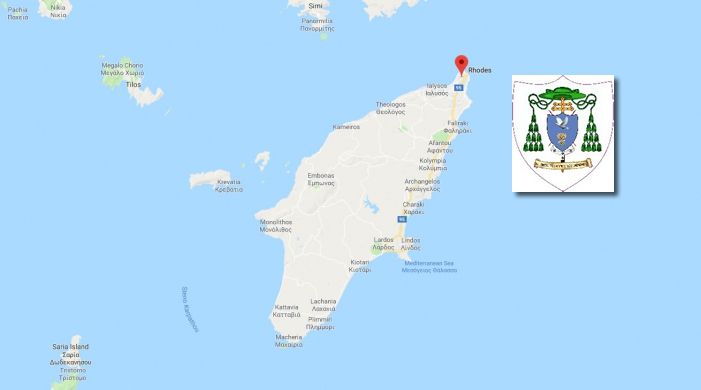 To the faithful of the Archdiocese of Athens and Rhodes
Apostolic administrator of Rhodes
The Intermediate Birth!
My dear brothers and sisters, today as I write to you I pray the prayer the Church gives us: "Heavenly Father, support us through the trials and tribulations of life, so that, strengthened by the
presence of the coming of Your Son,
we may be delivered from our former sinful condition.".
The Son of God is coming! We are living again, in these days before Christmas, mankind's expectation of a Saviour. This is why we call this period Advent (of Christ the Saviour). However, this does not mean that Christ will be born again in Bethlehem. That event took place
over 2018 years ago
and will not be repeated historically. We, though, live it again spiritually.
At the same time the Church reminds us during these days that
Christ will come for the second time
, at the end of time, to take with Him into a life of eternal bliss at His side all those who have awaited His second coming or who have lived consistent to their faith.
During these days St Bernard tells us that there is also a third coming, a
third Advent
of the Saviour Christ: "
A third coming placed HIDDEN between the other two which are REVEALED. During the first coming mankind saw the Word of God (made
flesh) who kept company with them when they saw Him and hated Him. In the Second Coming "everyone will see the salvation of God" (Lk. 3,6), and they will see the one that they pierced with a spear (John 19,37) But HIDDEN is His Intermediate Coming, during which only the elect will see Him amongst them and their souls will be saved."
So what is this Intermediate Coming of Christ and how does it happen? Christ Himself tells us "If someone loves me he will keep my word and My Father will love him, and We
will come to him and dwell in him
. He who does not love me will not keep My word" (John 14. 23-24).
This, then, we must not forget as we prepare for Christmas: in order for the first coming of Christ to benefit us as we wait in hope for His second coming, it is necessary to live TODAY his Intermediate Coming. How do we do this? Jesus Christ gives us His word every day when we read the Holy Bible and when we hear the preaching of the Church. In this way Christ wants to come into our lives together with His Father.
"If someone keeps My word My Father will love him, and We will come to him and dwell in him."
By keeping His word and by applying His word we open the door of our hearts to let Christ our Saviour and His Father in! And then, having the Father and the Son within us we can look for and wait for His second coming with joy and hope! Thus the wait for Christmas makes sense and is worth the wait!
May God make us worthy to live the coming of Christ every day, listening to, studying and keeping His word!
Sebastian, Archibishop
Share this entry